ENTRY UNIT WITH PADDERS FOR NON STOP PRODUCTION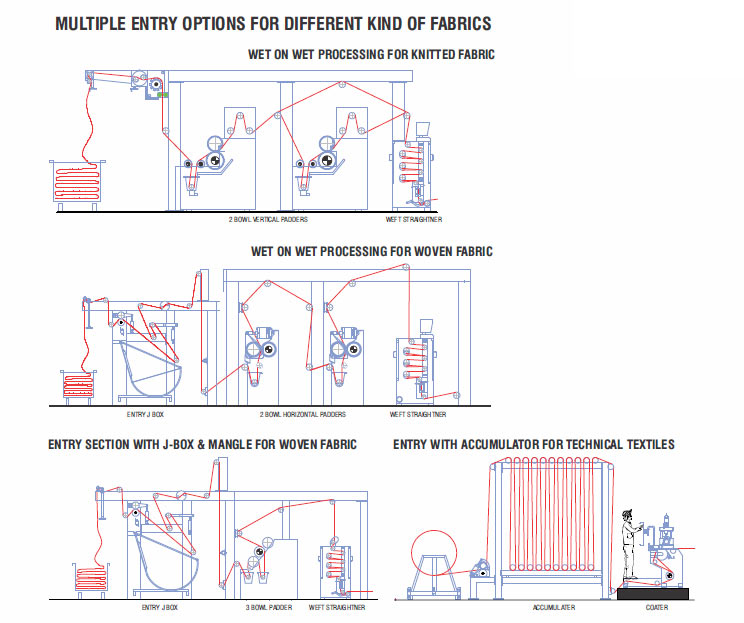 Features and Technical Data
Operate with variable linear pressure for top & bottom squeezing with R-E-R & R-R-R combination.
Hydraulic deflection rollers for specialized squeezing purpose.
Mechanical or Pneumatic arrangements for lowering & lifting of the tank with heating and cooling possibility of liquor trough.
Bow or scroll rollers before entering in the padder.
Shore hardness up to 100 are available.
Maximum linear pressure: 500N/cm.
working width range 1200 mm - 4200 mm.
Entire body frame from MS with SS cladding inside the wall.
Rubber coated roll, assembled vertically ø 305 mm up to 2400 mm & ø 355 mm up to 4200 mm working width.
Liquor circulation with auto level controlling.
Compensating roller with pneumatic tension regulation & load cell control for different kind of fabrics.


Video
EASIEST ENTRY FOR THE FABRIC BY SPECIALLY DESIGNED FEEDING OPTIONS

Diversified chain Inlet lengths as 3 m, 4.5 m, 6 m for finishing processes of woven, knitted and home textile fabrics.
Individual driven overfeed, underfeed, selvedge LHS & selvedge RHS controlled by PLC & TOUCH SCREEN.
Overfeeding from -15 to 70 % directly adjustable to PC / TOUCH SCREEN.
Specialized driven SS scroll rollers for woven as well as knitted fabrics.
Gumming & Pre Steaming options.
3 /4 FINGERS UNCURLERS or EDGE SPREADERS from TEFLON make for proper selvedge decurling.
Pneumatic operations for selvedge pinning wheel + Multiple self driven pinning brush options.
Infra red sensors for fabric infeed with fabric safety options for fabric pin out.
Fabric support at feed end with separate drive synchronized with chain drive.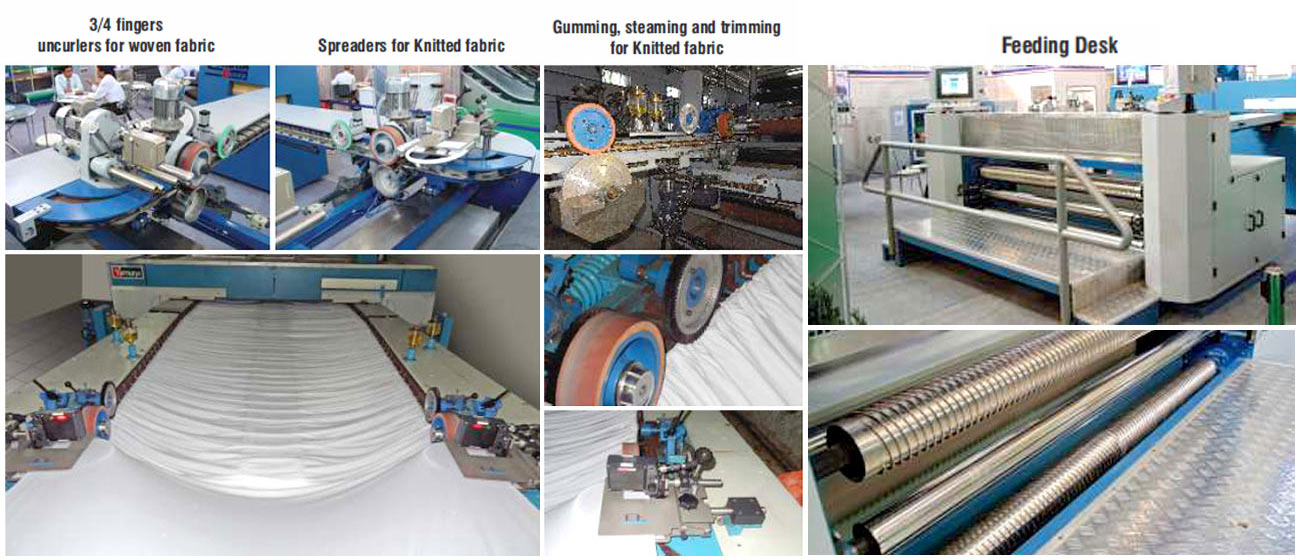 Video
CHAMBER DETAILS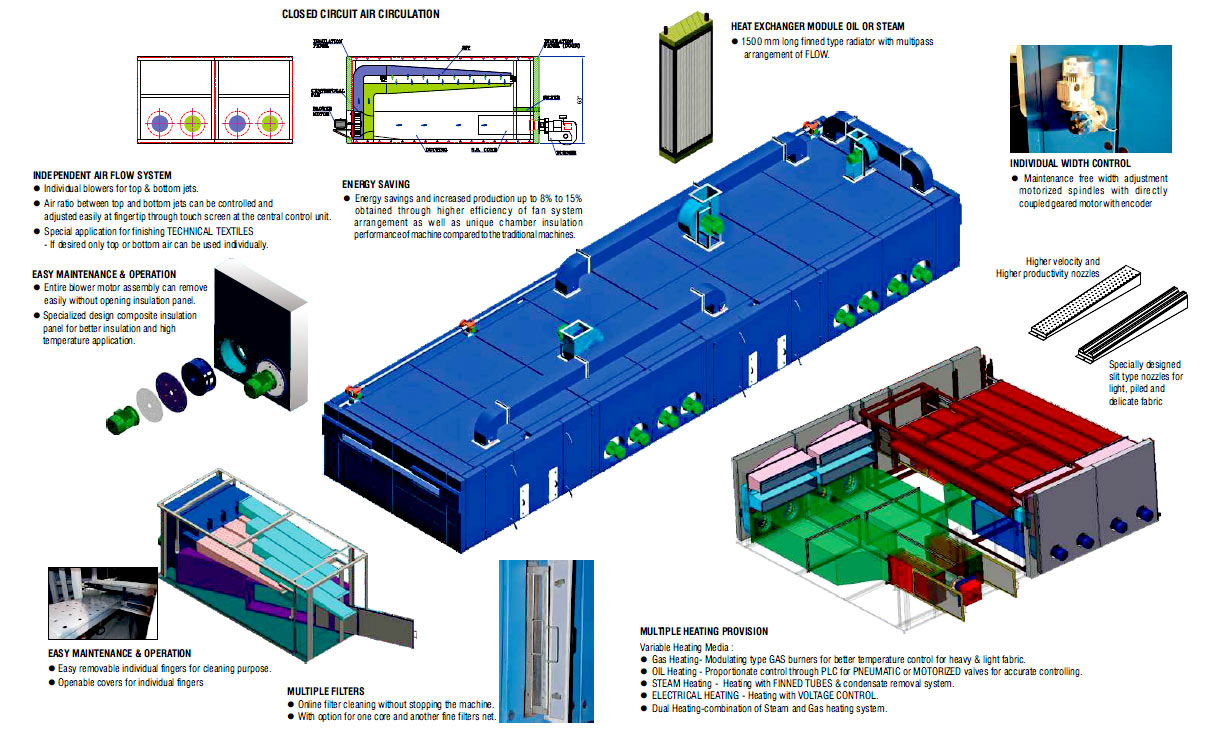 INDEPENDENT AIR FLOW SYSTEM
Individual blowers for top & bottom jets.
Air ratio between top and bottom jets can be controlled and adjusted easily at fingertip through touch screen at the central control unit.
Special application for finishing TECHNICAL TEXTILES
- If desired only top or bottom air can be used individually.
ENERGY SAVING
Energy savings and increased production up to 8% to 15% obtained through higher efficiency of fan system arrangement as well as unique chamber insulation performance of machine compared to the traditional machines.

EASY MAINTENANCE & OPERATION
Entire blower motor assembly can remove easily without opening insulation panel.
Specialized design composite insulation panel for better insulation and high temperature application.
Easy removable individual fingers for cleaning purpose.
Openable covers for individual fingers
MULTIPLE FILTERS
Online filter cleaning without stopping the machine.
With option for one core and another fine filters net.

HEAT EXCHANGER MODULE OIL OR STEAM
1500 mm long finned type radiator with multipass arrangement of FLOW.
INDIVIDUAL WIDTH CONTROL
Maintenance free width adjustment motorized spindles with directly coupled geared motor with encoder
MULTIPLE HEATING PROVISION
Variable Heating Media :
Gas Heating- Modulating type GAS burners for better temperature control for heavy & light fabric.
OIL Heating - Proportionate control through PLC for PNEUMATIC or MOTORIZED valves for accurate controlling.
STEAM Heating - Heating with FINNED TUBES & condensate removal system.
ELECTRICAL HEATING - Heating with VOLTAGE CONTROL.
Dual Heating-combination of Steam and Gas heating system.
CHAIN AND CHAIN RAIL SYSTEM
Horizontal type fabric transport chain system are available depending on the fabric to be processed. Chain system is available with pin, clip or combination of pin and clip. Specially designed pin bars and clips ensure the safe handling of even most delicate fabrics. Heavy and longer pin bars are available for finishing thicker fabrics like carpets, canvas and blankets.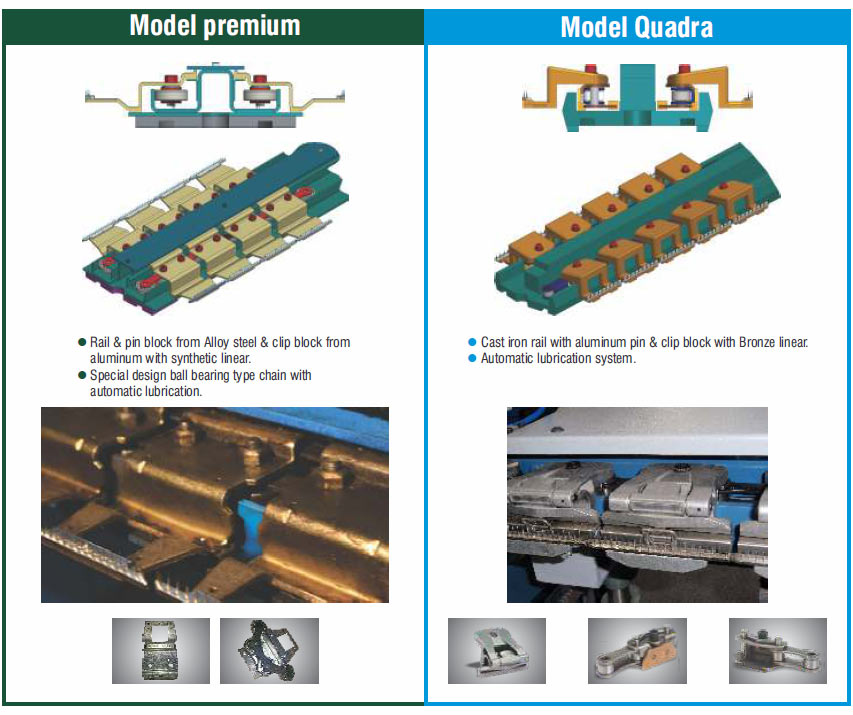 AUTOMATION WITH INDUSTRIAL PC
Our QUADRA & PREMIUM models with complete automation comprises the following:
Individual width control-geared motors with ENCODER control for width adjustment.
AC frequency controlled drive for main Chain, Mangle, Underfeed / Overfeed, Selvedge RH and LH Tension, Exhaust, all blowers, Plaiter / Batcher.
PLC with touch screen/Industrial PC to monitor and control the process parameters.
Software / interface on latest communication technology.
Temperature control of each zone by PLC.
Air flow control for top/bottom nozzles from touch screen.
Fabric temperature sensor and dwell time controller.
Residual moisture controller.
Exhaust humidity controller.
Automatic overfeed and residual shrinkage controller.
Individual login password for different levels.
Recipe Management with production reports on required intervals.
Easy Alarms & Fault findings through PC .
Team viewer connection.
Maintenance Schedule & Records.
DIVERSE INSTALLATIONS IN PROCESSING TEXTILES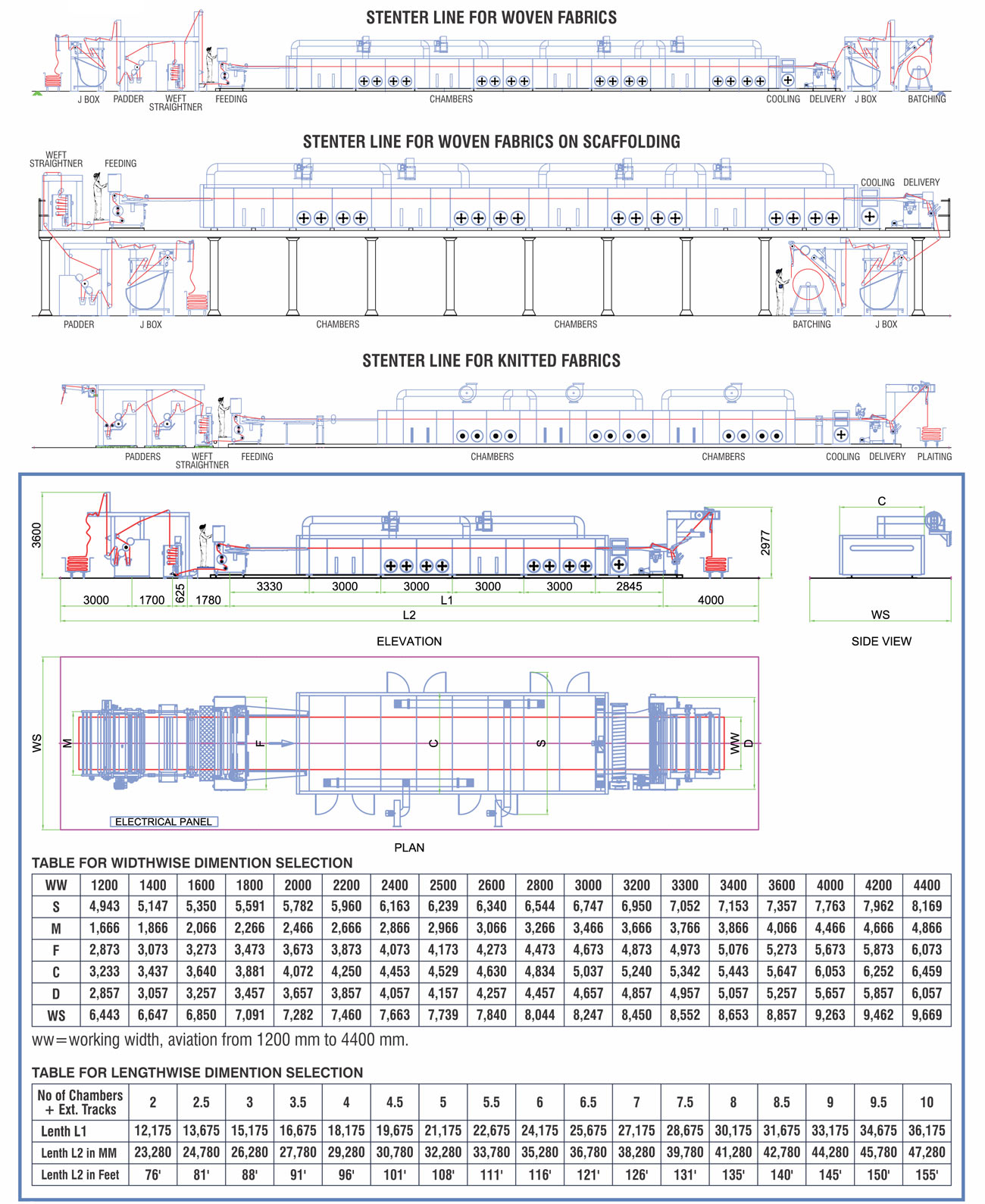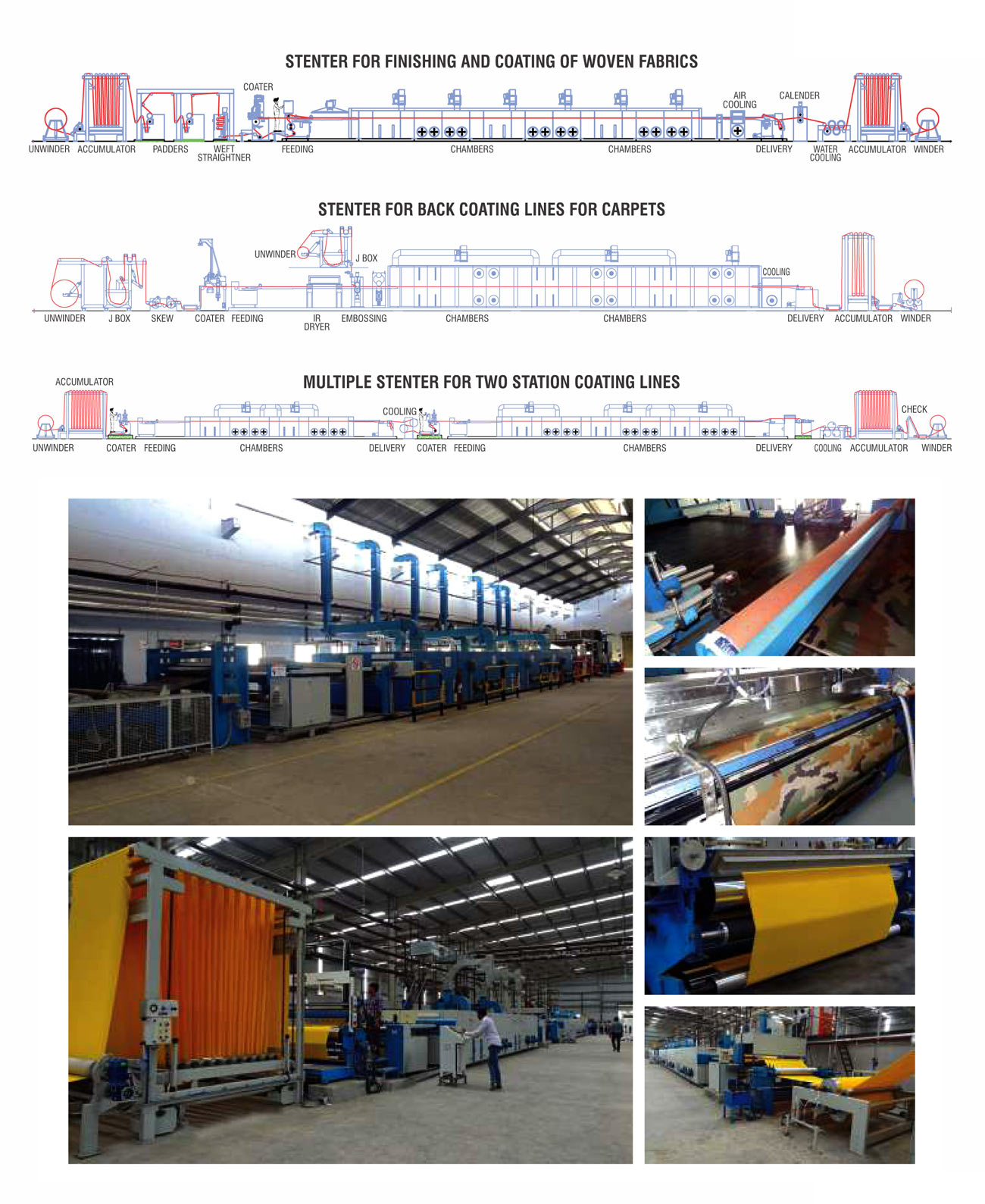 Video
POPULAR WORLD OVER